Rising to the Occasion
APRIL 05, 2018 / BY BING KIMPO/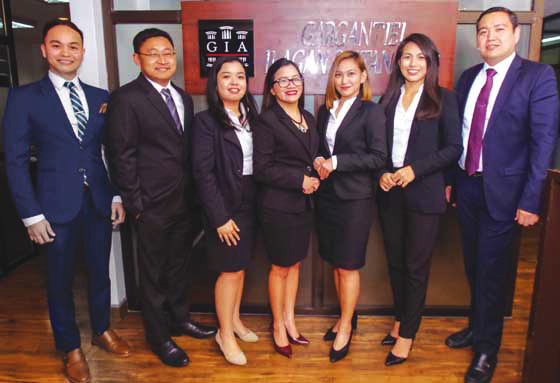 IT'S a young law firm run by young lawyers, all right. But prospective clients do not have to think twice about paying for their services. And more so when they witness the GIA Law attorneys argue their cases in courts. The firm's youthful culture is an advantage, you know—and one they intend to keep, even as they and their firm grow older.

"One of the things a young firm has is enthusiasm. A young firm renders service with a burning passion to succeed; and this can make up for the lack of gray hair" Rowell D. Ilagan, a litigator and law professor who joined the firm in 2015 as a name partner, says in an interview. "[Our clients] can directly communicate with us at any time of the day, and we'll respond immediately." Having experienced the rigidity of working with an established law firm steeped in the observance of hierarchy and seniority, he says that being faced with older, more seasoned adversaries in the courtroom is par for the course for GIA Law: "We take it as a challenge," he adds. "Success loves preparation. In order to win your cases, you always have to be ready and prepared."


Expanded practice
Such a mindset has paid off, as the GIA, which stands for Gargantiel Ilagan and Atanante, is fast making a name for itself. From litigation, GIA has now expanded its practice areas to cover immigration, alternative dispute resolution, family law, contracts, criminal law, constitutional law, labor law, administrative law, telecommunications and public utilities, real estate, land titles and deeds, corporate law, corporate rehabilitation, torts and personal injury, environmental law, aviation, law on public offices, election law, intellectual property law, taxation, mergers and acquisitions, and education law.
It has, indeed, come a long way from when it started in 2010 as the practice of accomplished lawyer and professor of law, Kristjan Vicente T. Gargantiel. It has since expanded steadily, marking a milestone in 2015 with, besides Ilagan's, the arrival of name partner Marcelino Michael Atanante IV, a tax and corporate lawyer.
Today, Gargantiel, Atanante, and Ilagan lead the GIA Law in an environment that oozes with youthful exuberance—hard to contain with a team of lawyers in their twenties and thirties. From a 45-square-meter office when Gargantiel put up the GIA Law, the firm now occupies half of the second floor of the Times Square Building, at the corner of Times and Examiner Sts., in Quezon City. The decision to locate in Quezon City—away from Ortigas, BGC, and Makati, the preferred address of the other law firms—was a strategic one.
"First of all, there are only a few big law firms in Quezon City—seldom will you find a firm in here with more than five lawyers," Gargantiel tells The Manila Times. He is also anticipating the development of the nearby North Triangle as a central business district. "This early, we strive to become a big law firm" he adds. "Hopefully, in time, when this becomes a central business district, we're already established here." He'd also factored in what he described as "the less stressful environment" of Quezon City. "We already have a stressful job, so the workplace must be less stressful," he stresses. "So we chose this."
Varied clients
The firm's clients currently include technology players, holding companies, real-estate and construction firms, religious institutions, charitable organizations, and NGOs; F&B, hotels, and tourism concerns; and aviation, education, and mass-media services. Its new clients are mostly referrals from the previous ones, and rarely have they had walk-ins.
Looking toward the future, Ilagan sees three areas that young law firms should be well-versed in, namely, arbitration, data privacy, and crypto-currencies. "Arbitration, because it would involve cross-boundary transactions and issues … all-encompassing an arbitration," he explains. "So, if you want to be globally competitive, if you want to practice in other jurisdictions, arbitration is a must." He adds, "Data privacy … considering the developments in technology, and the digital currencies," which have been gaining ground among internet-savvy investors.
'Old-school quality'
Gargantiel, for his part, underscores the need to adapt to the fast-changing world of litigation and practice of law here in the Philippines, even as he stresses the need to master and muster what he describes as "an old-school quality—being able to practice grace under pressure."
The youthfulness of GIA Law and the relatively relaxed atmosphere of their QC environment afford the firm levity. Laughter punctuates the chatters while the team is huddled over lunch. A young firm on the rise, indeed, and happily so.